Newborn Photography Lighting Equipment Shopping Guide
If you are a newborn's photographer, then you should be proud of the job you do. You don't know how fulfilling it is to be there when a family share their most considerable excitement, except of course you are there. Being entrusted with your client's baby shows how much trust your client have in you. They believe that you can recreate every single moment of joy in photos.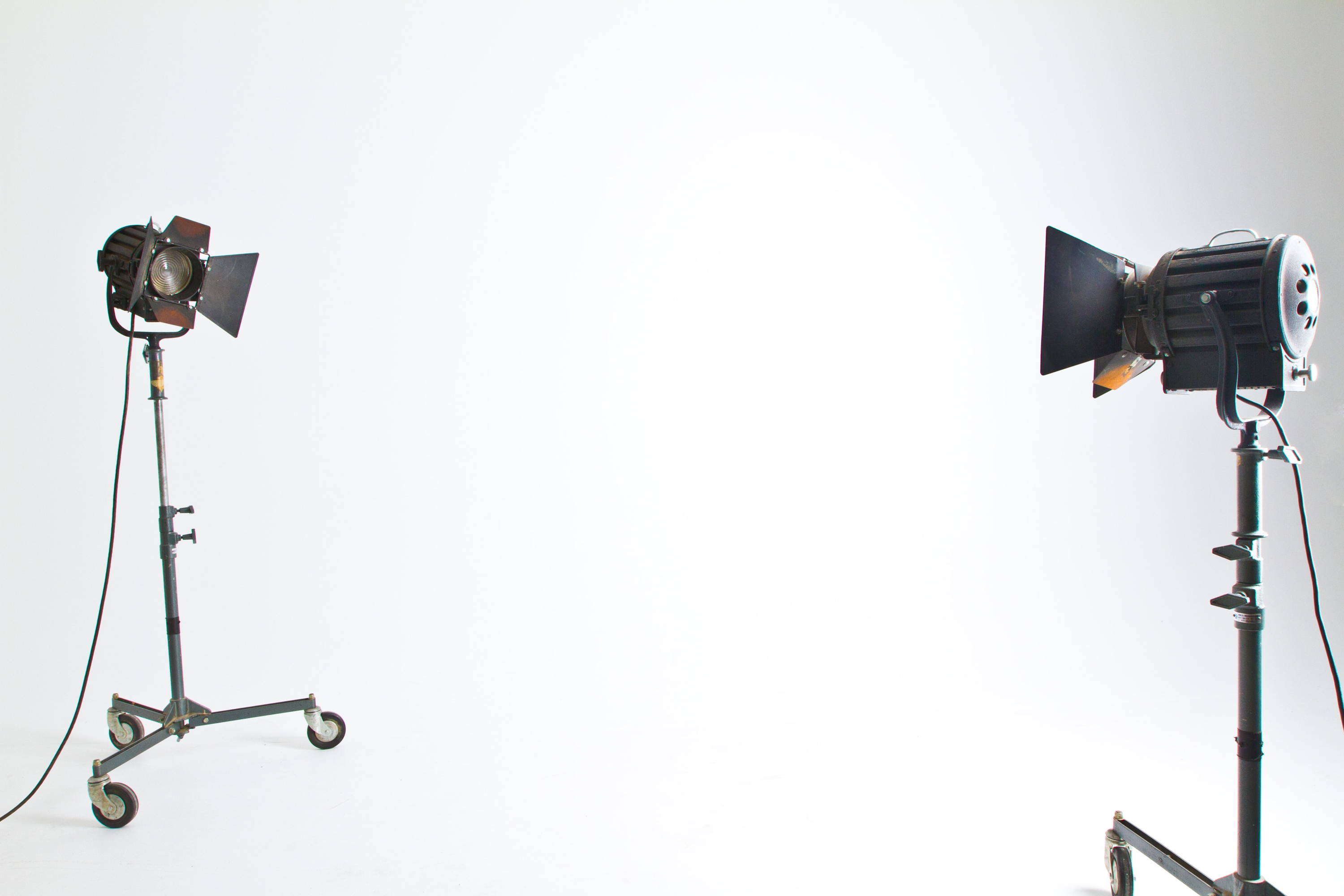 Yes, natural light is ideal for taking newborn photographs. However, we are often helpless because we can't control the weather to favor our working hours. That is where artificial lighting and lighting accessories come into play. The easiest way to control the quality of your photo is through lighting. Here, we recommend two lighting accessories to help increase the quality of photos you take without having to empty your pockets.

This guide will include reviews of some of the most popular products under each category of lighting accessories. Moreover, we will also explain how to go about using them.


Types of Newborn Photography Lighting Equipment

A softbox is one of the must-have for newborn photography professionals. It is one of the most effective methods to adopt for taking care of the problem of lighting during a newborn photography session. Lots of photographers are already adopting their use. Also, it takes away the need for having to wait for the availability of natural light before a photo session commences.

Apart from offering better lighting, this extra gadget will help you take control of the lighting condition.

Furthermore, it will hand you an opportunity to make the images more transparent. Also, it's useful to keep the newborn safe from the effect of the flash. To know more about Softboxes, check our newborn photographer's guide to softboxes.

Let's pause here for a while and take a look at 3 of our best picks as far as softboxes are concerned.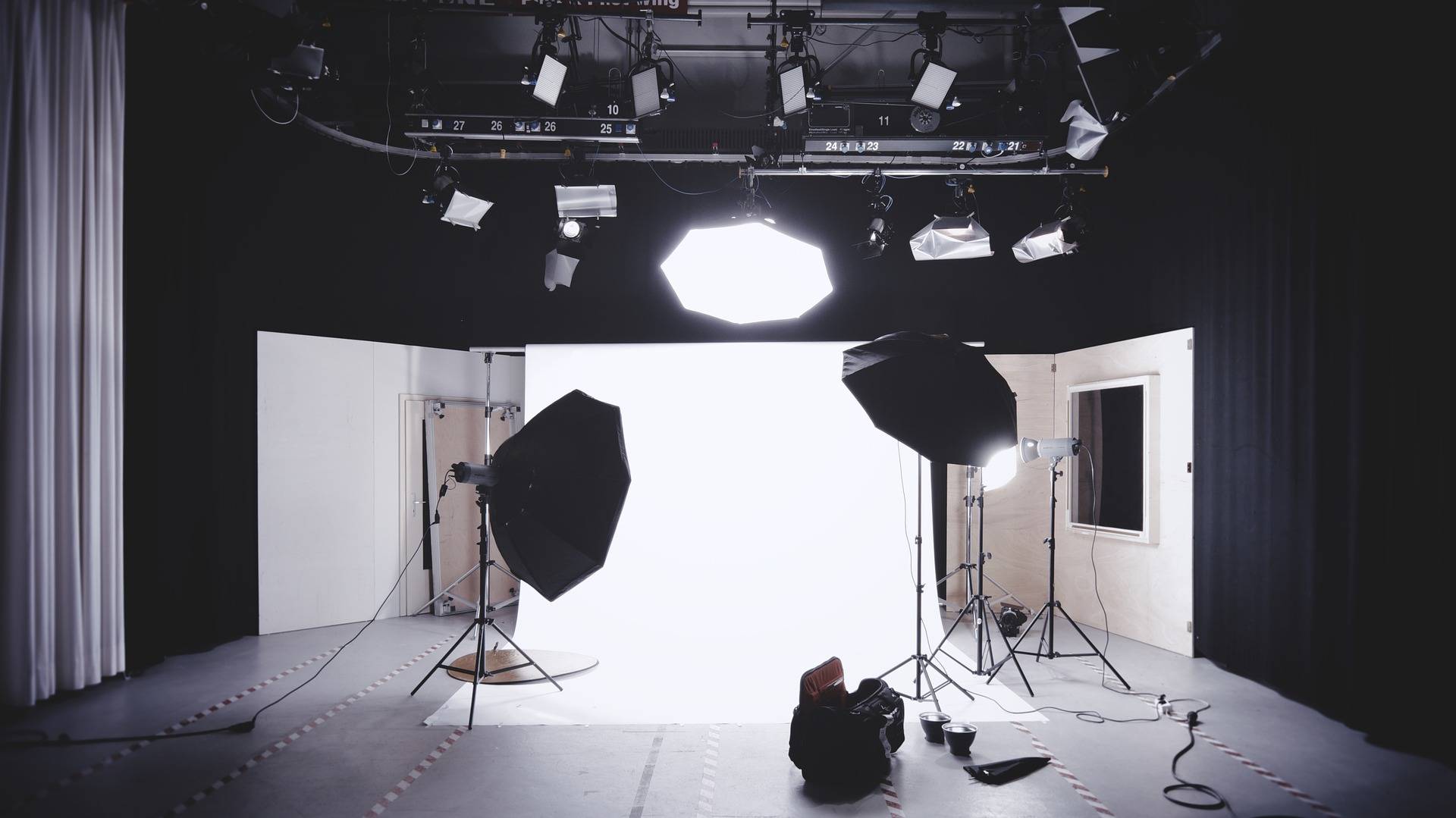 Review of Softboxes For Newborn Photography

The ESDDI 20×28 Softbox as this lighting kit is popularly called continues to standout in the softbox market, for its set up ease and high-level functionality. It is an excellent option for you if you ever find that you need to travel in the last minute to handle a shoot. Moreover, it is also helpful even if you are merely going to do an on-location shoot.



As expected for most quality softbox kit in its category, the ESDDI Softbox Lighting Kit offers you different levels of setting. It is something you may not see in most other lighting kits. This kit comes fully packed with professional, long-lasting trichromatic lamps that are designed to feature a look that resembles the sun.With this, you can get beautiful shots of a baby in any location, even when it is still dark.

When it comes to durability, this lightbox stands out. It is fully featured and ready to use for both studio shooting, and working in scenes. It also has a wide range of useful accessories. These accessories are useful to get a good video production. Thus, now you can expect to go on shooting once you acquire this.



It is one softbox model that you will find in nearly all online review of Softbox for newborn photography because honestly, it stands out in quality and functionality. If you prefer purchasing photography lighting equipment, then you will know by now that Altura Photo is not a company to joke. Thus, when it comes to the production of top quality photography lighting equipment, we can name this company. Having penetrated the market over the last few years, it is not so difficult to see why every one of their products stands out.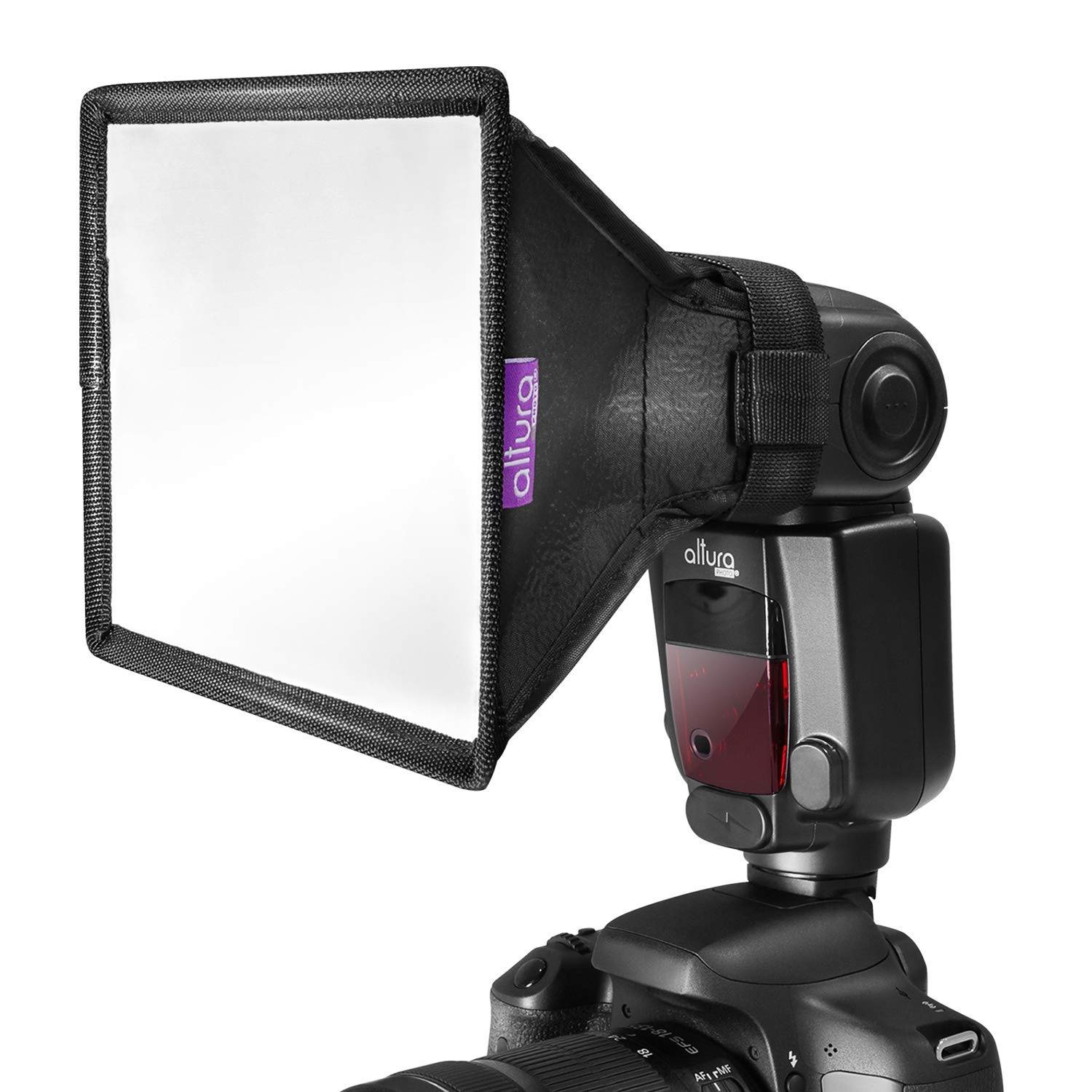 This Flash Diffuser from them is a typical representation of the kind of quality that the company stands for. The product is one of the best in the market and photographers are not slowing down on the pursuit for it. It works with Shoe Mount Flash Units, to produce lighting that is not only even, but with sifter shadows and less harshness.

The Flash Softbox from Altura Photo is designed to fit usage with brands like Nikon, Canon, Yongnuo speed lights and others. It comes with its storage pouch and has a Velcro the strap that helps for quickly securing around your flash head area. Another great feature of this Softbox is its ability to create something special out of almost nothing. Hence, it works such that even with the lowest power output, it still delivers soft and beautiful light. This feature makes it easy for use in other functions too like wedding receptions and others.



When you see looking for a lighting kit that offers protection in one piece, this certainly stands out. Apart from being so easy to set up, the EMERT Softbox Photography Kit also provides a level of functionality that's commendable. Guess what? It is also quite useful and affordable, so it is a win-win for you even if you are starting as a newborn photographer. The materials are also of excellent quality, although it may cause some problem trying to master them all. However, we assure that once you can get a proper hang of it, it will be a jolly ride, all the way.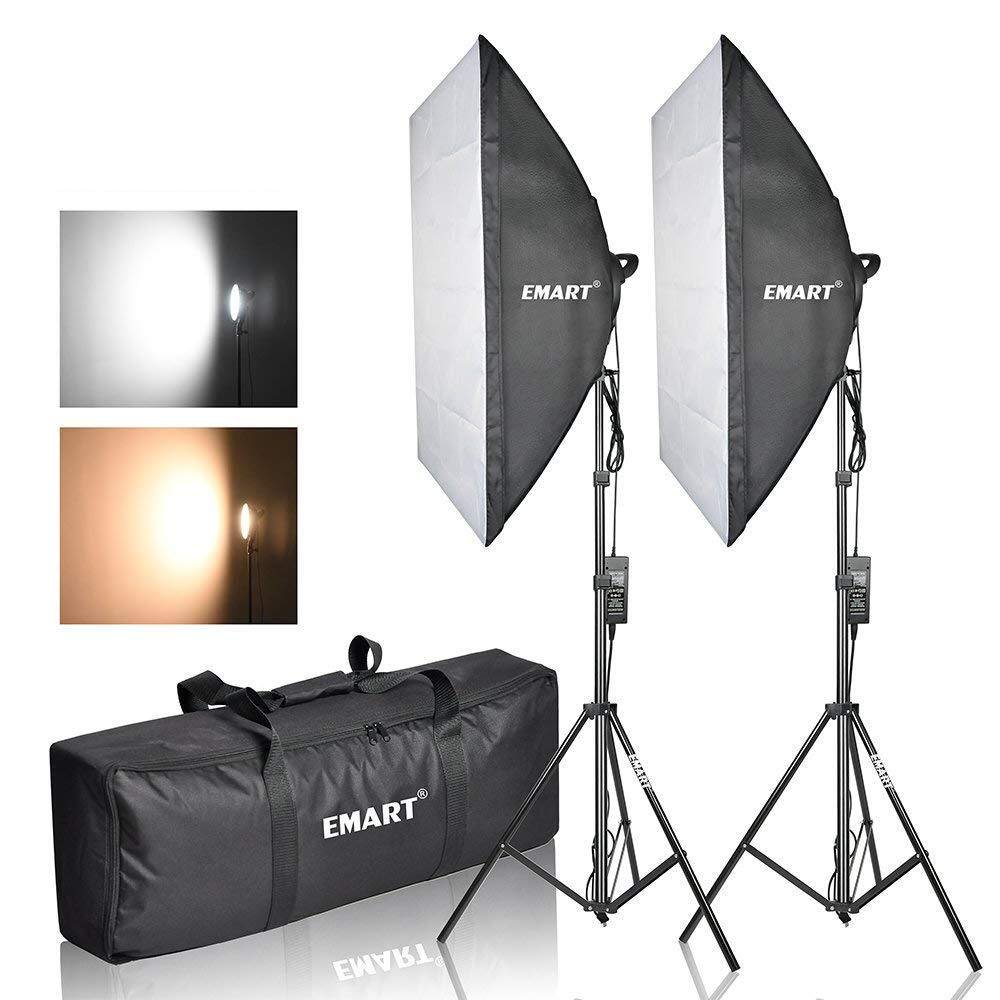 When it comes to durability, this one also stands out. Its stand, for instance, is made of nuts and bolts, to keep them firm and functional for a long time so that you can expect longer and smoother usage of it.

This product has a perfect diffuser. It is easy to assemble and remove from the equipment. Each kit contains a carry bag, a pair of light stands, a pair studio light bulbs, and a couple of softbox reflectors, meaning 24 × 24 inches. You can adjust the light stand to a range between 33 to 86 inches. It gives steady support to softboxes irrespective of the height you want to operate it on.



If you are a professional newborn photographer, then you should already know that a primary 5-in-1 reflector is a light modifier. It is something that all photographers should own, irrespective of the area of expertise. When shooting, we use reflectors for modifying light.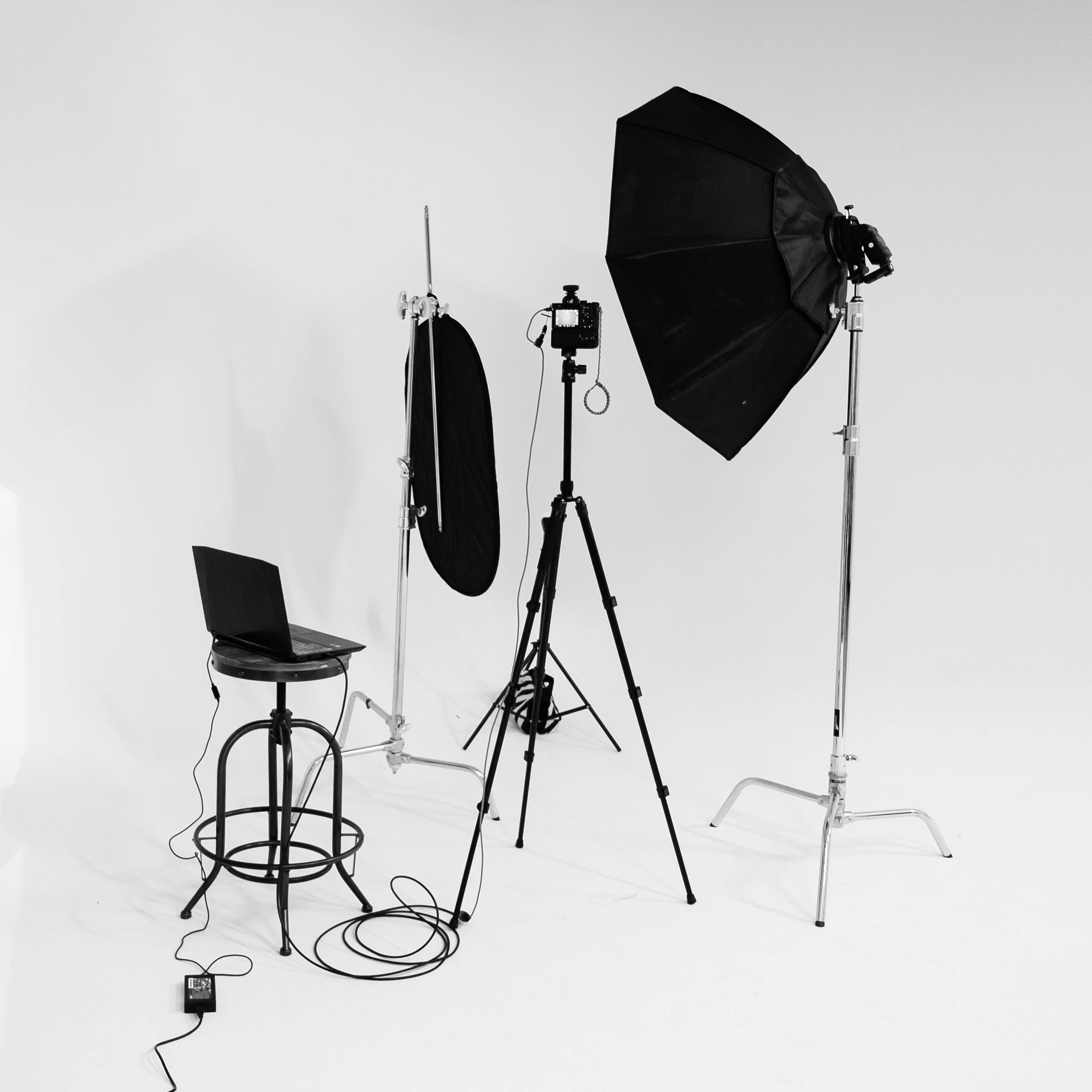 Usually, we recommend that you pick two different reflectors to ensure that the whole process becomes simple for you. A lot of photographers prefer to have one with scrim side available, as well as another with silverside. That's because it helps bring versatility to the session. If you adopt this strategy too, you will have the necessary modifiers available during any photoshoot session, without having to zip or unzip them. It is especially great for working with newborns, seeing that some expressions only last for a few seconds. So, you need your reflectors ready at all times to be able to capture even the slightest poses.

Here, you can check a list of some of the best reflectors you could get for your job as a newborn photographer.



As simple as the name of this reflector appears, it is a complete set. It offers you everything you need to get your lighting correct during every shoot. It is an insert that has different slipcovers. Thus, you can tell from your first look that it is the perfect one for you. Lots of users praise the reflector for the kind of quality that it brings to the mix. We like the thick frame and handle of this product.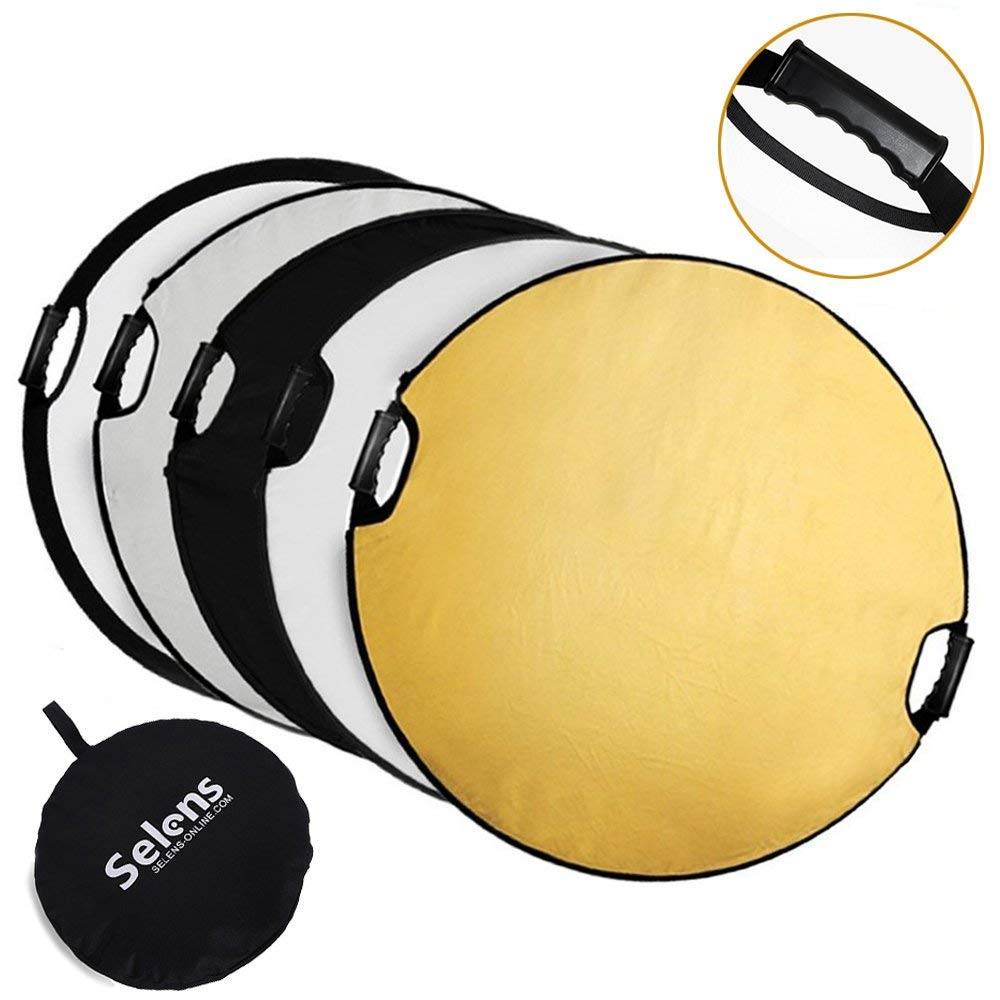 That's because they combine to make the unit easy to use, irrespective of angle. It doesn't sag like most other reflectors in its category. Therefore, this means that you could be shooting for a long time. Also, you will be doing it without tiring from trying to control an annoying sagging effect. You could also leverage this to shoot and reflect all by yourself when there is no one to help out.

The product had been receiving accolades online and offline for its ease of use, durability, and portability. Generally, this product is a fantastic product, with only very few shortcomings.



Having being existence for so long, the company behind the manufacture of this product does nothing wrong in its design. It is first, a very affordable reflector option, so you can afford to own one, even if you are operating on a budget.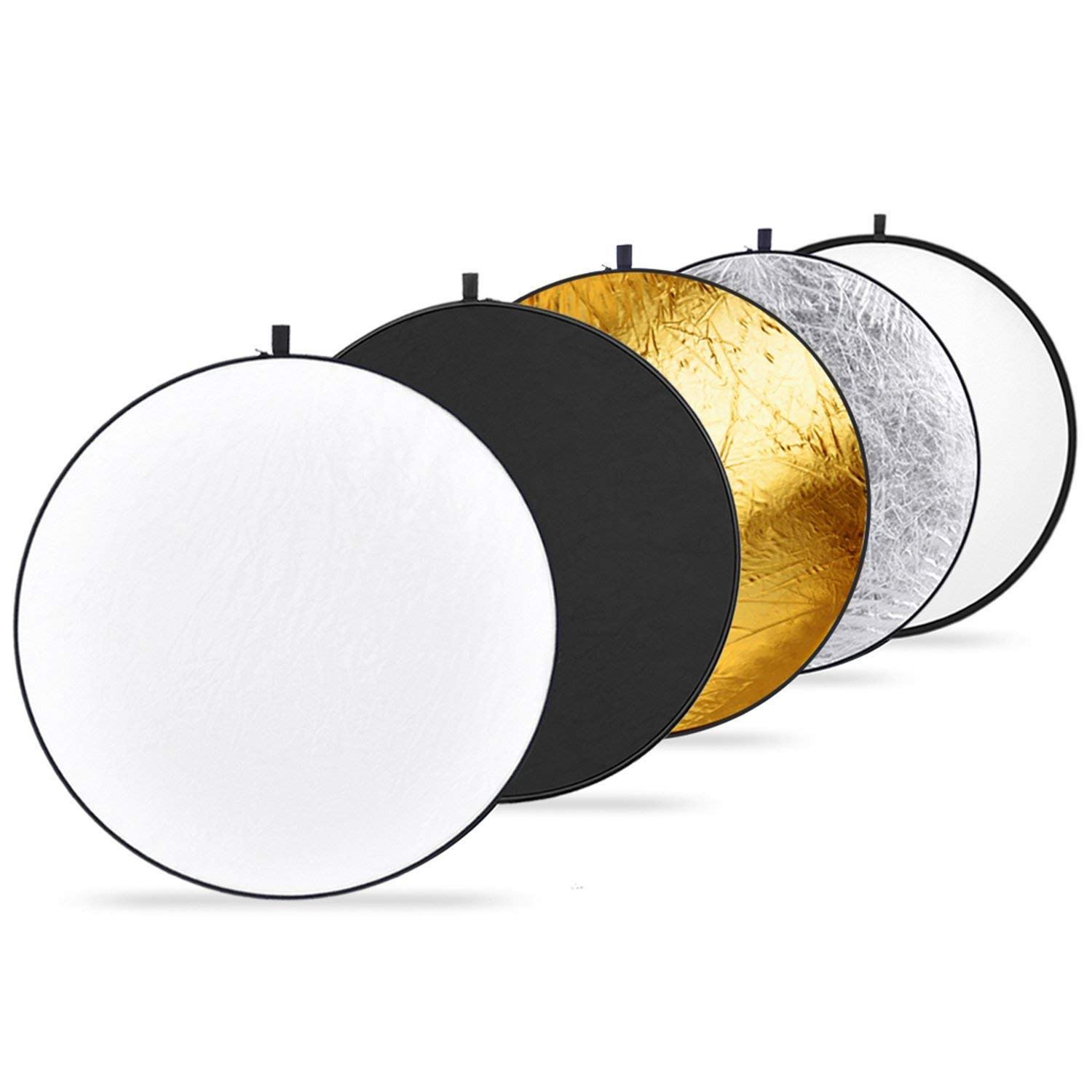 Like most other reflectors in its category, this 5-in-1 reflector allows you to be able to switch between different colors during a session. Colors include gold, silver, black, translucent, and white. This product also stands out from the crowd in its size, measuring an incredible 43". It will make a great option if you are looking for something big that's sold for less.


Lighting Tips Every Newborn Photographer Should Know

After learning so much about different lighting accessories and how to harness each for getting great lighting during photography sessions, let's now talk about a few killer tips. These tips can help you get to your 'A' game as far as lighting is conserved in newborn photography. A lot of people may find it tough getting through lighting issues, especially as it relates to newborn photography.

As a newborn photographer, one of the best things to do is to ensure that every lighting you use is safe. You should understand that newborns still have their eyes very sensitive. Thus, they may not be able to stand harsh light until after the first few months of their life.

If you must use a flash, then most experts suggest that you try the use of an external flash. However, you must ensure that the power is low enough not to wake the baby from their sleep or even blind them. Learn to bounce the lights of the ceiling.Note, however, that it is safer to avoid the use of lighting completely.



Ambient light has always been the perfect option for newborn photography sessions. They are natural and soft lights that try to form a replica of sunlight from a window nearby. The use of constant white studio lights would also be subtle enough for the situation.Also, don't get too scared of using shadows, as long as you would be making sure that they are correctly positioned.

The use of shadows can create more attraction to the photograph.If you desire to add a little more depth and dimension, however, then you can use shadows to direct the eye to the main subject of the photo.Also, if you use studio lighting for your newborn photography session, then you should ensure that the light is coming from the direction of the babies head.

The light should be able to illuminate the face, and then down to the body, without potentially causing any issue. It always stands out useful for the avoidance of messy shadows, that will form distraction from the photograph.

A popular way to control lighting during newborn photography sessions is through the use of Softbox. It helps to confine your light option into closed chambers. It then releases the enclosed light through a process of diffusion. The outcome of the light usually is more even and softer. Remember that the closeness of the Softbox to your newborn determines how quickly the light appears. If you still have questions, then you should check our Hеlрful Guіdе tо Nеwbоrn Phоtоgrарhу Studіо Lіghtіng.



The safety of client's baby should be your primary focus. Keep in mind that it is a special moment. The family wants to remember these moments forever. You don't want to be the reason why the celebrations get cut short. So, try your best at all times to remain as professional as possible. Be open to discussing with the parents the adverse effects of any choice they are making. You can also suggest to them a viable option that will help them get the best.

They hired you as a professional. Hence, the clients put some level of trust in you to be able to handle the whole session. Do not disappoint because the probability of getting future gigs in this locality may be determined by how well you can manage this one.