8 Useful Newborn Twin Photography tips
We all admit that newborns are adorable, right? So, imagine the feeling of two cute little bundles of joy, the excitement is out of this world. Yes, twins can double the pleasure.
As a parent to twins, nothing compares to the feeling of having new members into the family. That's because the privilege of carrying the infant from conception to birth is overwhelming. You cherish and capture every moment and move they make the minute they are born, that is where a professional photographer comes in. If you are a parent to twins and looking for a professional shoot, then check out my post "Newborn Photography Tips for Parents" before jumping into any deal.
As a photographer, it is a beautiful moment for you too. Moreover, capturing the cute smiles, curly hair, and cute little nails a few days after birth is exciting, right? So, it is your moment to wow the parents. You do that by capturing the moments and putting them in a frame for the family to remember.
Newborn photography is fun. Even more, it is a chance for a photographer to be creative and work with the amazing little creatures. As much as you would like to ignore, it is also challenging. Therefore, ask yourself, "if working with one makes me sweat for the pose, what about two?" Well, you may have the experience, the right equipment, but what does it take to have a perfect shot?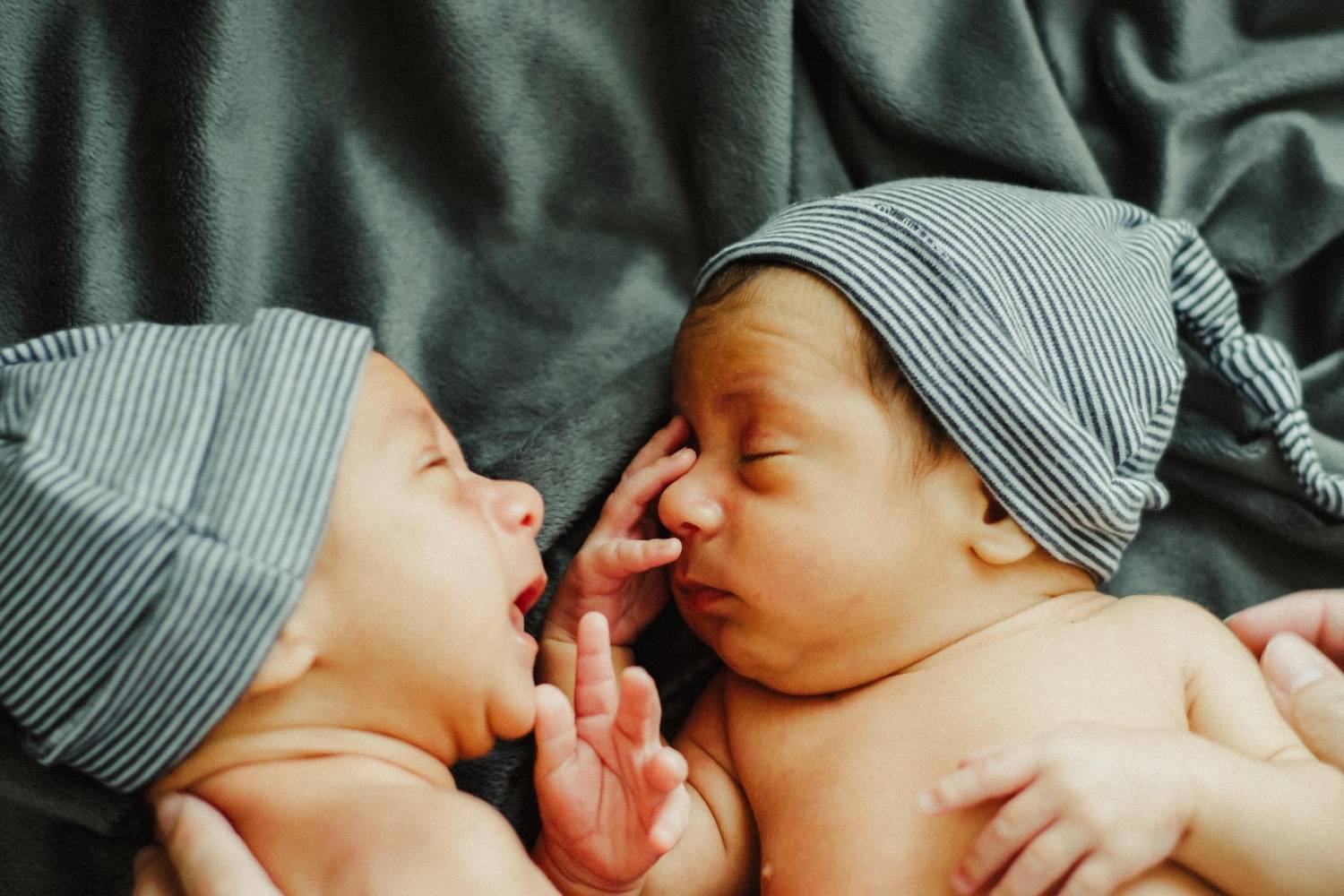 If parents to twins contact you for newborn photos, are you up for the task? Many couples plan early, of course, the thought of twins excite them.
Well, all of these questions are common, and we have already answered them in our previous posts such as Tips Оn Hоw Tо Take Bеttеr Blасk Аnd White Nеwbоrn Photos, Shot List for Newborn Baby, and many more.
However, if you have the privilege of working on such a project, you need to remember the following 8 tips to pull through with the photo-shoot:
1) The Timeframe May Never Work
As a photographer, you may already know the right period to have a newborn shoot. It should be between the time of birth to two months, but the perfect one is the "10-day rule," and here is why. During day one to day 10, babies are mostly asleep and curl as they were in the womb. As time goes by fast, it may become difficult to get the pose. So, what happens with twins?
As biology says it, most twins are born before time. Additionally, they spend the early days of their lives in hospital. Thus, if you were to work with the "10-day rule," it may not work with a set of twins. That does not mean it is not possible. You can take the pictures any time before they are two months of age.
2) The Only Difference Is You Are Working With Two
If it is your first time to take twin newborn pictures, know that it is not different from working with one. They all want the same warmth in the room, little noise, and safety. The rule here is being careful because they are two and not one.
Make them comfortable, safe, and warm. For the fact that twins are small, you need to be extra careful because they are fragile. Even if you have the parents to help you out, you might also need an assistant to help place them in the right positions for a pose.
3) Use the Magic of Togetherness
Just as they were in the womb, twins love to take shots together. Curling and folding them together makes them comfortable and manageable. Try to work with poses that will have them together. Work with the mother to know which twin is irritable and who is easy to work with to take perfect shots.
4) Prop Shots Are Beautiful
There is nothing that gives a photographer an easier time like the use of props. They are the best for poses. The baskets, crates, bowls, little beds, nests, beanbags, and folds are cute on themselves. Here you can browse our awesome collection of props. So, having an innocent little bundle of joy in them adds to the sweetness of the photo. Finally, you can use your creativity and make the best of the props to create beautiful settings.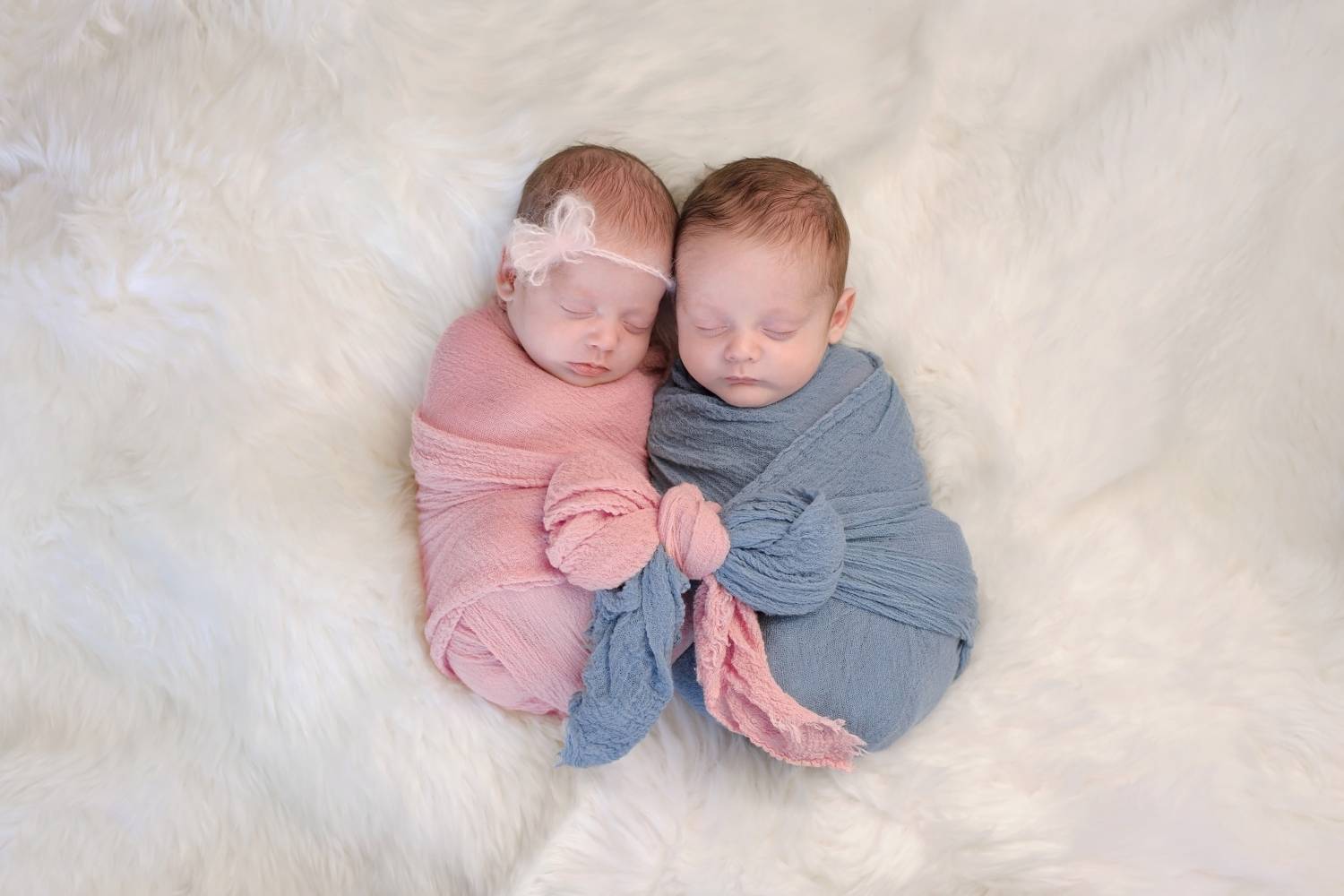 5) The Poses
As a parent, you can do it at home and pull it. Using a professional photographer means, you are looking forward to having striking poses from the set of twins. As a photographer, it is your time to show off your skills by placing the twins in cute unbelievable poses.You can have individual photos and together once. The trick is to try your best to place the twins together. You can use wraps to hold them together, put them one against the other. You can twist their arms or leg together if they are comfortable for a single shot. Be close enough to capture even the cute smile while they sleep. That is what the parent wants in photos.
You can also find out more options in my post - 7 Tips for Posing Your Newborn.
6) Work With the Family as a Whole
The twins excite the entire family. If they have siblings, they want to be part of the moments too. As a professional, involve the siblings and parents to be part of memory making by including them in the pictures. You can take photos of them together to add in the family archives.
7) Be Patient
Let nobody fool you that it will be easy to work with the set. Having all the equipment, setting, and prop doesn't guarantee a smooth photo session. Newborns cry, poop, or pee when taking the nude pictures and you will have to place them on a particular pose since they can't take instruction. Be patient and move with the flow. Once you have an excellent shot, you will understand why you had to go through the trouble.
8) Have FunHow
Often do you have an adorable set of twins for a photo shoot? Rare, right? For that reason, have fun working with them. Just like the way the parent is having fun watching their newborns posing for the pictures, you too should enjoy capturing every bum, curly hair, cute little nail, and pink lips through the lens.
Final Thoughts!
As a parent, seeking a professional photographer to capture beautiful moments for your twins is the best decision you can make. As a photographer, it's time to highlight your skills. Let everybody who sees the pictures be like, "Get me contacts of the photographer who took these pictures." The above 8 useful newborn twin photography tips will aid you through the shoot.